Use video trainings and e-learning in your company
The use of videos in the company not only saves time and money, but is also an important factor in digitization. From video presentations and instructions to security training and live streams with important updates. Videos can automate and simplify various processes in everyday working life.
We would like to present some of the factors that coovi offers your company in the area of video communication.
Onboarding-Videos for employees
New professional challenges bring with them new tasks and responsibilities. A successful recruiting degree depends largely on the onboarding process of new employees. Without it, 25% of all new employees leave the company within a year, 20% even within the first 45 days.¹ Good onboarding increases the commitment of new employees and reduces the willingness to change. Especially in times of a shortage of skilled workers this aspect becomes more relevant.
How can coovi improve your onboarding?
Videos convey knowledge in a more tangible and sustainable way than classical teaching methods. Attention is focused and the information gained is internalised more sustainably. Compared to classroom training, the use of video training also offers the possibility of retrieval independent of time and location.
Compulsory and safety training
Compulsory training is part of the everyday life of all employees. Typical topics are occupational safety, emergency training, health care and data protection. The strategic goals of compliance management are primarily risk minimization and increasing the efficiency and effectiveness of the company.
Videos work better than texts.
Security training often has the character of being less interesting to employees. Studies also show that the brain processes images better than the written word, especially when used in conjunction with speech. Explanatory videos are an elegant solution to make dry content more appealing to employees. A structured, video-based compliance training supports the underlying change process by making the training interesting for the employee.
In addition, created videos can be saved and reused for future training.
Retrieve video instructions via QR Code
Bring analog and digital together through the use of QR codes. Especially in the manufacturing industry, technical operating manuals and work instructions are often found in long, confusing texts that spend their existence in a cupboard.
Studies show that reading texts is one of the least efficient ways of exchanging knowledge. In order to ensure that relevant information is better absorbed, it is advisable to have comprehensible, visually appealing operating instructions.
The solution? A QR Code sticker with a video instruction.
Link products, machines or technical equipment to the "real world" and create comprehensive step-by-step video instructions and
E-Learning Videos. In a short time a lot of information is effectively conveyed and made accessible.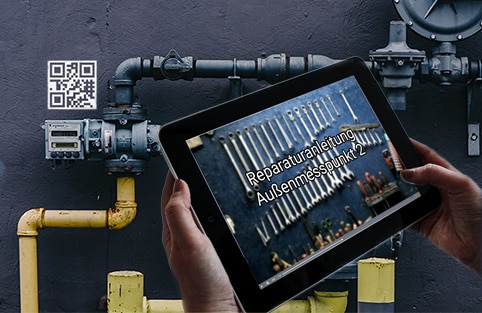 Video-Streaming for Meetings & Events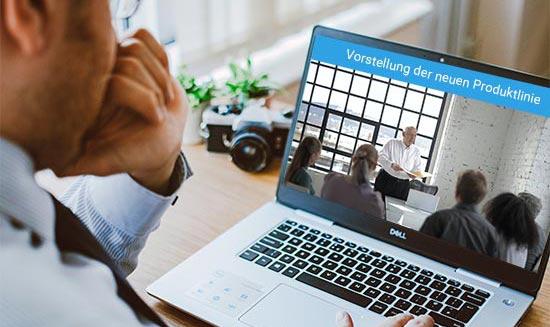 How can meetings with colleagues at other locations be arranged? How do you manage to build a stronger basis of trust with your customers? Questions that a livestream answers.
Advantages such as spatial independence and unlimited participation in events in a virtual space make this concept so successful. Announcements for new projects, town hall meetings or the next big product launch, there are many areas of application. Participants can also use the chat function to ask questions and have them answered in real time.
Streams can then be stored in the video platform and accessed on-demand. Events can thus be made accessible to people who were unable to attend the event. 
When will your next event take place? Live streaming with coovi – simple, direct, personal.