Fit for your job through video-based training
The integrated e-learning module provides a complete Learning Management System (LMS) and
enables fast on-the-job training through video-based learning courses. With coovi online trainings can be conducted independent of location and
can also be performed at any time. Learning has never been easier!
Everything in coovi is designed for motivation and to make learning easy and enjoyable. A large selection of intuitive question types and configuration options supports the trainers in creating the quiz. The e-learning component enables the trainees to get an immediate feedback about the learning success at the end or during a quiz. The detailed evaluation and display of the results is of course automated.
Tutorial videos can be combined with quizzes to form an online course and assigned to selected target groups. The notification to the employee is automatically sent via e-mail and can also be displayed in the user interface in coovi can be displayed. More extensive subject areas can be bundled additionally to a course plan. coovi offers an intuitive structure for the systematic structure and allows, without any programming knowledge, the composition of the of attractive online courses.
Motivation and reflection through personalized certificates
Does your organization's compliance require that certain content be observed? coovi supports you in this respect as well – the subsequent download of a certificate provides proof of successful participation in training courses.
Increased concentration with in-video questions
Check your knowledge while watching a video
In video questions are short quizzes to test your personal knowledge within a learning course while watching a video. At the same time, in-video questions increase the participants' concentration as they are actively involved in the video training. Questions about the video content that appear there are optional and do not count towards the final result of the final quiz. The question types available here are multiple choice and simple selection questions.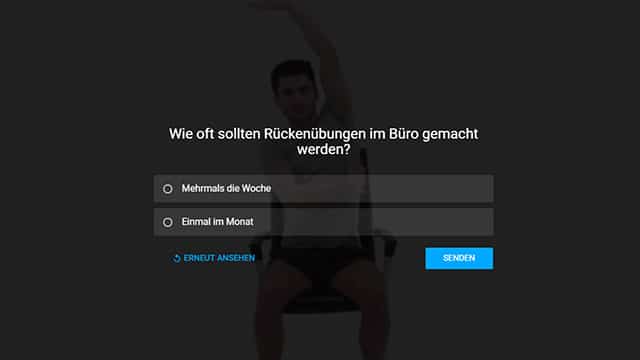 Video as part of the whole experience
Using the "SCORM" export option, video trainings can also be easily integrated into existing Learning Management Systems (LMS)
and shared with any number of employees, partners or customers.