Education in the digital world
The current challenges of the Corona crisis open up new perspectives and opportunities for teachers, pupils and students to enrich the education of the future with digital media in a sustainable way. 
Our video software solution aims to meet the diverse needs of learning and teaching with digital media in education.
With coovi education, education providers can record and provide teaching materials online in the form of live broadcasts and instructional videos. 
The various options for recording individual learning videos and making them available to students and pupils ensure a simple work process for teachers and effective learning success for students and pupils.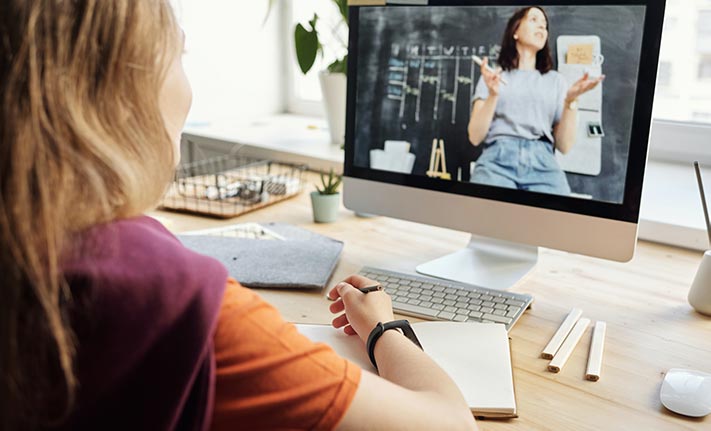 Video software for universities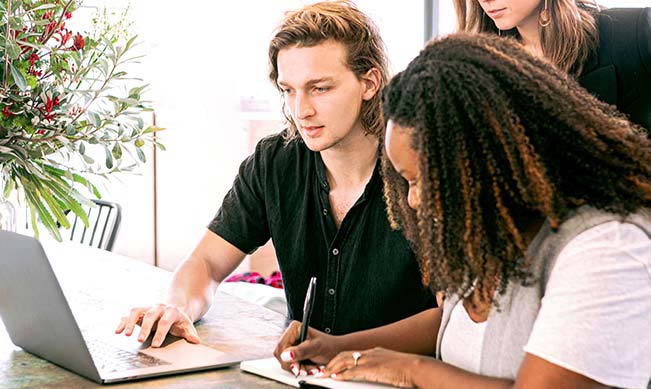 Numerous practical functions for an attractive video lecture
Creating and providing educational videos
The "Flipped Classroom" teaching method known from the American region – also known as "upside-down teaching" – describes integrated learning, in which knowledge content is worked on at home by the learners and then discussed and deepened in the subsequent lecture.
With coovi education, lecturers can present and redesign complex subjects in a video lecture. Subsequent lectures offer time for further questions and the deepening of lecture contents.
Learning videos can be prepared individually and, if desired, together with other teachers. Long lectures can be divided into meaningful sections and named.
Live streaming of events - Lectures online and in real time
coovi education is suitable for the simple recording of a lecture as well as for edited explanatory videos for teaching purposes and supports students:
Hold real-time video lectures and answer questions directly via the integrated chat function. Such online lectures can be recorded independently of lecture halls and linked in the university's literature database. At the same time, videos are stored directly in coovi and can be called up again at any time.
The learning videos can be imported with just a few clicks into company internal learning environments such as Iliad. Alternatively, coovi can be used as a separate video platform to provide learning videos in a structured and clear way for learners.
With coovi education you can work together on a video – parallel and in real time! Collectively work out instructional videos, compare results and structure sections – no matter whether from the same institution or a completely different location.
coovi ensures that the learning videos can be played on different devices. This means that learners can use a variety of devices such as PCs, smartphones or tablets and play learning videos in high quality.
Digital education in schools
Video lesson become increasingly popular
The majority of all children and young people today are online. A study by the Bertelsmann Stiftung shows that students use videos not only in their private lives, but also for learning. Teachers such as Sebastian Schmidt¹ have been successfully using the "Flipped Classroom" teaching method for years, integrating explanatory videos as digital teaching into their lessons.
In the process, classic lessons are turned around and provided as homework in the form of a learning video. Students watch the video at home and learn flexibly at their own pace.
Teachers then use the lesson for intensive and accompanying exercises, in which the difficulties of individual students are also taken into account. 
Learning & training with explanatory videos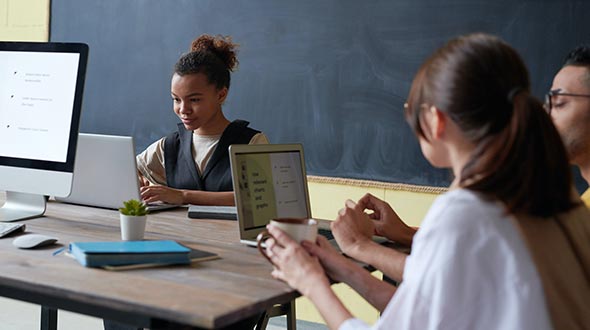 There are numerous scenarios for integrating videos into lessons and using them in different learning situations.
A tricky task in mathematics lessons, an exciting experiment in chemistry lessons, an educational film about a historical moment:
There are many ways to integrate videos into the classroom and use them in different learning situations. Learn more about the possibilities of creating explanatory videos in the classroom.
Learning platform with quiz, courses & course plans 
The integrated Learning Management System (LMS) from coovi education enables creative knowledge retrieval through interactive quizzes that motivate learning.
Easily create your own quiz with interactive question types and inspire students to participate and train.
Depending on their role, students can create explanatory videos themselves and share them with other students. There are various possibilities to dynamically develop the learning content and to assign author rights for collaborative projects and group work.
Learning videos can be divided into separate sections and assigned to different classes and years. Within a section, subject areas can be used to structure the lesson topics and distribute them to selected students.
Use the advantages of digital education with coovi education